WizzAir plots route to growth as CEO eyes £100m bonus
Asked in 2003 why he had not taken Ryanair into central and eastern Europe, Michael O'Leary, the airline's chief executive, was emphatic.
Mr O'Leary, one of the most driven and competitive of CEOs in any industry, told the Wall Street Journal: "Our model just can't be slapped down in Central and Eastern Europe at this point."
At that very moment, though, someone was planning to prove him wrong.
Jozsef Varadi, the former chief executive of Hungary's national carrier Malev, believed there was indeed an opportunity in that part of Europe.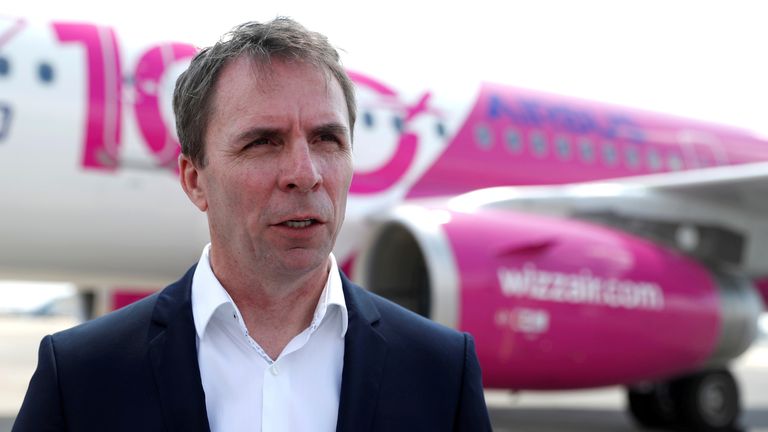 May 2004 was due to see the biggest expansion of the EU in its history with 10 countries, including Poland, Hungary and the Czech Republic, joining the bloc and bringing with them a further 75 million potential air travellers.
Under the terms of their entry, the new EU members were obliged to abandon treaties that had previously protected their local airlines, exposing them to competition.
Mr Varadi spotted an opportunity to disrupt the market. Moreover, confident that Eastern Europeans would travel in big numbers to work in countries like the UK, Ireland and Germany once they were allowed to, he had identified a whole new market.
The airline he created with the backing of American financier Bill Franke, Wizz Air, launched its first flight from Katowice – disparaged at the time by London's Evening Standard as "perhaps Poland's grimmest city" – to Luton on 19 May 2004.
From those humble beginnings emerged an airline that has gone on to carry more than 200 million passengers and whose stock market valuation has shot up from £1.7bn just four years ago to more than £5.1bn today, a share price performance to put the FTSE-100 in the shade.
An airline, according to City gossip, that is so confident and ambitious that it recently made a takeover approach to its longer-established rival EasyJet.
Ambitious is a word that crops up a lot when Wizz Air is mentioned. It was when, earlier this year, Wizz Air published new proposals on pay that would see Mr Varadi receive a one-off bonus of shares worth £100m if he can achieve a compound annual growth rate of 20% in the share price during the next five years.
And it has been many times during the last year when, despite the pandemic battering the aviation industry, Wizz Air has continued to open new bases and launch new routes.
Source: Read Full Article